Craig's Firebird Page



Hi. My name is Craig and I live in State College, Pennsylvania. This page is about my 1994 firebird formula. I bought it on February 25, 2000. It only had 26,000 miles on it, and it was in perfect condition. The previous owner said that it had never even seen rain! I soon changed that, but it's ok. I like the car so much, that I thought it should have a web page. It has all of the options and a sweet sound system that I put in it. Here it is after being washed and waxed.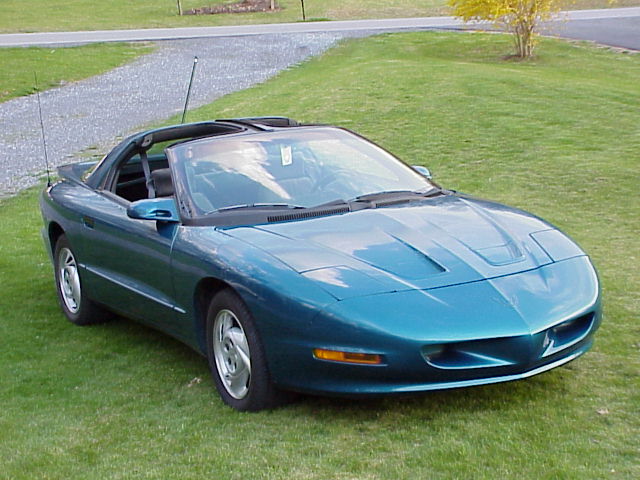 Specifications:
1994 Pontiac Firebird Formula Coupe
LT-1 350 CI V-8 Engine
6-Speed Manual Transmission
275 Horse Power and 325 ft/lbs of torque (Stock)
0 - 60 in 5.8 seconds (Stock)
T-Tops, 4-Wheel Disc Anti-lock Brakes
P 245/50 R16 wheels


It originally came with the Monsoon System. It sounded good, but it wasn't enough for me. My modifications to it are:
Clarion tape player with cd changer controls ARX-6470
Clarion 6-disc CD changer CDC-635
Kenwood graphic equalizer ( It does wonders to your sound quality )
6.75" Rockford Fosgate Fanatic P component system
6.5" Rockford Fosgate Fanatic X component system
Two Pioneer 6X9 3-Ways with bass blockers on them ( In customized boxes )
Two JL Audio 12" Subwoofers 12W0 ( I built a customized box for my trunk - see pic below )
A Two Channel, 600 watt max, Power Acoustik Amp ( It powers the subs )
A Four Channel, 600 watt max, Prestige Amp ( It powers the components and 6X9's )
A 1 Farrad Lightning Audio Capacitor ( Connected to both amps )

Modifications:
I haven't been able to do much to it yet, but I'm working on it.
Pulleys Added 11 HP
3.5" Slashed Exhaust Tips Didn't add any horse power, but they look good.
Disabled the "Shift Skip" feature
K&N Filter Charger Added 19 HP
Flowmaster 80's Series Muffler Added 30 HP
Spark Plug Wires
A Dual Friction Centerforce Clutch
Total HP = 335 Horses

*I used the horse power ratings which were given by the manufacturers. I doubt that I actually have this much.
FUTURE MODS:

Throttle Body Air Foil Adds 11 HP
Throttle Body Adds 20 HP
TransAM Front End With Fog
Lights
2 Inch Lowering Springs
Ram-air Hood

Total HP After Future Mods = HP
These should keep me busy for a while, but i'm always lookng for improvements.


Click here for more pictures of my car and pictures from the Carlisle Ford Car Show!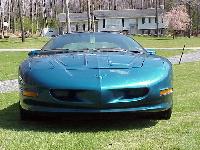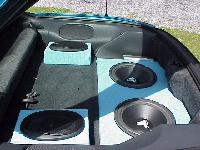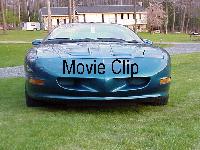 Featured Link
The Offical SCR Homepage This is a website that represents our crew. We started the infamous SCR of
State College, PA! Sweet Rides, Check them out and sign the guestbook!
Cool Links
Jeff Malino's firebird page This guy's car is amazing! It's been the F-body car of the week!

Jeff Todd's firebird page Check out what this guy did to get a 12.18 quarter mile time! We're talking 540HP!

The offical Napster site If you need any MP3's, download Napster!

The Firebird Page This page has dozens of excellent firebirds from all generations! Check it out!

Zach's Custom Performance Page Specializes in custom performance. If you need a part, see if he can get it for you!





This page will be constantly changing, so please stop back!
If you have any questions or comments,

E-mail me at cks136@psu.edu

AOL Screen Name: Shilohpsu