System Page
This is my system page. I've built this system over a couple of years. I've installed most of it myself, but had a little help from some of my friends. It has nice sound quality and bumps hard. I'm always changing it around and buying more things for it, to make it the best as possible. Here are some of the basic specifications, which were also found on the front page.
Sound System:
    It originally came with the Monsoon System.  It sounded good, but it wasn't enough for me.  My modifications to it are:
        Clarion tape player with cd changer controls   ARX-6470
        Clarion 6-disc CD changer   CDC-635
        Kenwood graphic equalizer   ( It does wonders to your sound quality )
        6.75" Rockford Fosgate Fanatic P component system
        6.5" Rockford Fosgate Fanatic X component system
        Two Pioneer 6X9 3-Ways with bass blockers on them    ( In customized boxes )
        Two JL Audio 12" Subwoofers   12W0     ( I built a customized box for my trunk - see pic below )
        A Two Channel, 600 watt max, Power Acoustik Amp    ( It powers the subs )
        A Four Channel, 600 watt max, Prestige Amp   ( It powers the components and 6X9's )
        A 1 Farrad Lightning Audio Capacitor   ( Connected to both amps )


My friend and I hooked up my car for the Paul and Tony's Stereo Competition, which happens during the annual Cool Cruise of State College, Pennsylvania. We were going for Sound Pressure Level (SPL). We won second place at the 1999 competition, so we set out to win a first place trophy this year. To accomplish this, we had to add some subs, and use some more powerful amps.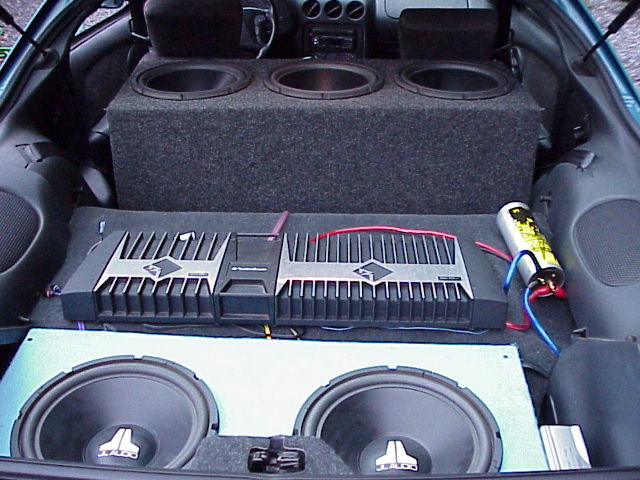 Specifications:


        Two 12" JL Audio 12W0's (250 watts max a piece)
        Three JL Audio 12W3's (600 watts max a piece)
        Rockford Fosgate 800X2 Punch Power Amp (1000 watts max output - powered the 12W3's)
        Rockford Fosgate 225.2 Amp (560 watts max Output - powered the 12W0's)
        Lightning Audio 1 ferrad capacitor

I needed to run 4 gauage wire back to the monsterous 800X2 amp. To help preserve my alternator, I had to get the capacitor. Even with the capacitor, the 800X2 was demanding too many amps: My power needle went crazy when I actually pushed it. After all the hard work, the competition was a success.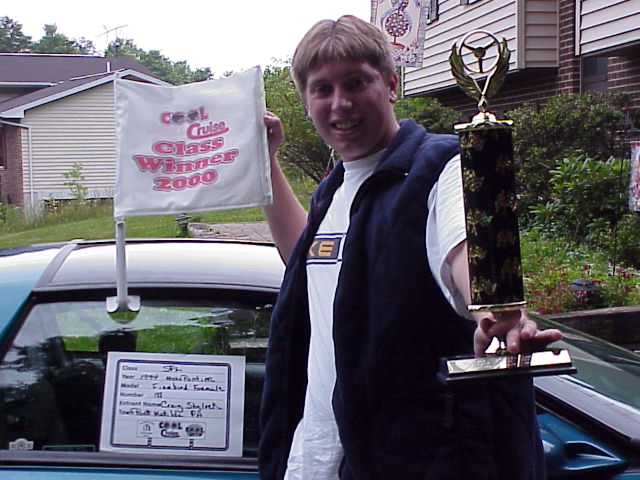 I ended up hitting 144.2 decibles! This was enough to win the 4-5 woofer class 1ST place trophy. I was actually aiming for 150 db, but 144.2 was enough to blow the competition away by 3 decibles. It was a great day. My car got onto the Paul and Tony's website, and in Auto Connection, which is a local weekly car classifides paper.